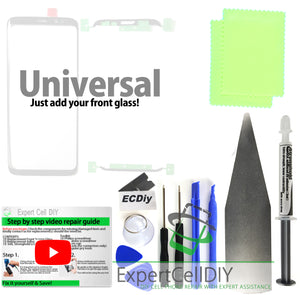 Universal Front Screen Glass Repair Kit (Just add a front glass!)
Regular price
$22.79
$0.00
Universal Repair Kit: All the contents of a kit without the front glass.

Just add your front glass! (Glass part is not included in this kit)
Smartphone displays, whether it be an iPhone, Pixel, OnePlus, Huawei, Oppo... series, have the front glass adhered to the rest of the display panel using OCA (Optically Clear Adhesive) film. 
Although the process requires precision for all devices, the concept for the glass removal process is universal: Our OCA Blade tool is the same thickness as the wire tool, which you see many professionals on YouTube using to do the glass separation. 
   As long as the tool is touching the underside of the front glass as it is being inserted into the display area, and heat is applied to soften the OCA layer, you will be able to remove the front glass.
   By disassembling the phone and working with the bare display away from the phone, you can eliminate worrying about where the ideal insertion point on your phone would be. (Or simply send us a message we will do our best to assist) 
Watch the 5 minute how-to video below.
**Please kindly note the 5 minute video will make the repair look easier than it actually is, we recommend watching the 20 minute in-depth video on our channel after**
Please note: This listing is for a phone which we do not have a video for. Proceed at your own risk with caution!
Patent pending OCA Blade

™ removes the glass without an expensive freezing machine.

Specially formulated adhesive cures in sunlight! No UV lamp required!
Repair kit with all the essentials tools
- 7 pcs universal screwdriver set with a suction cup
- Bar-style metal pry tool for disassembly
- Razor Blade for creating the entry point for the OCA blade
- Clips to hold the glass during the LOCA glue process
Comprehensive screwdriver set included.
Free shipping & Free returns within the US! (2~4 Days delivery with tracking)


Canadian & International shipping ($9.82 with tracking) 
**International items will be shipped from the US or Canada and it may incur duties/taxes**


60 days return on all items & No restocking fee on any returns!
---
Related Products