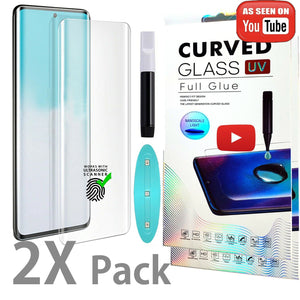 Curved Screens: Protect your repair! 2x Full Glue Curved Tempered Glass Screen Protector
Regular price
$11.99
$0.00
With a decade of expertise in handling cracked screens, cases & screen Protectors, here is our top recommendation for curved screens:
    Film based/hybrid screen protectors may be good for preventing scratches on the screen, they offer virtually no protection against impacts.
    Standard curved tempered glass screen protectors with adhesive along the edges only produce glare, and often fail prematurely. 

    These tempered glass screen protectors are full-glue, made of high quality tempered glass, in-screen fingerprint sensor compatible and compatible with most cases.
Heavy duty/thick cases such as Otterbox Defender/SUPCASE Unicorn Beetle Pro may cause lifting/premature cracking.
What's included:
2 X Full Glue Curved Glass UV tempered glass screen protector

Made of premium laminated tempered glass.

 (the film lamination layer strengthens the glass and ensures the glass stays together in the event of damage similar to a car's windshield)

Water resistant UV glue!

Wet & dry wipes also included.

Ultrasonic fingerprint sensor compatible
Please follow the installation process outlined in our video shown below: 

https://www.youtube.com/watch?v=vfElD4j1Lpw&ab_channel=ECDiy

60 days free return! If you don't absolutely love it, return it for a full refund!

---
Related Products